Co-supervisors
Kun-Ting Chen (Stuttgart)
Arnaud Prouzeau (Indra)
Tim Dwyer
---
Please note this advert is for a Internship. It is not currently an advertisement for an honours or masters thesis project.
Please note you can ONLY apply for this internship via the  internship application form. 
Internship Project:
Our research is exploring the use of data visualisation to visually analyse complex eye tracking data. We have spent a few years working on developing some software that we are eager to make more visually appealing and easier to use. As the successful candidate, you will help in our research activities in particular to take a key role in:
Designs and development to help improve the UX/UI of the visualisation software
Help to evaluate these new designs with our eye tracking analysis experts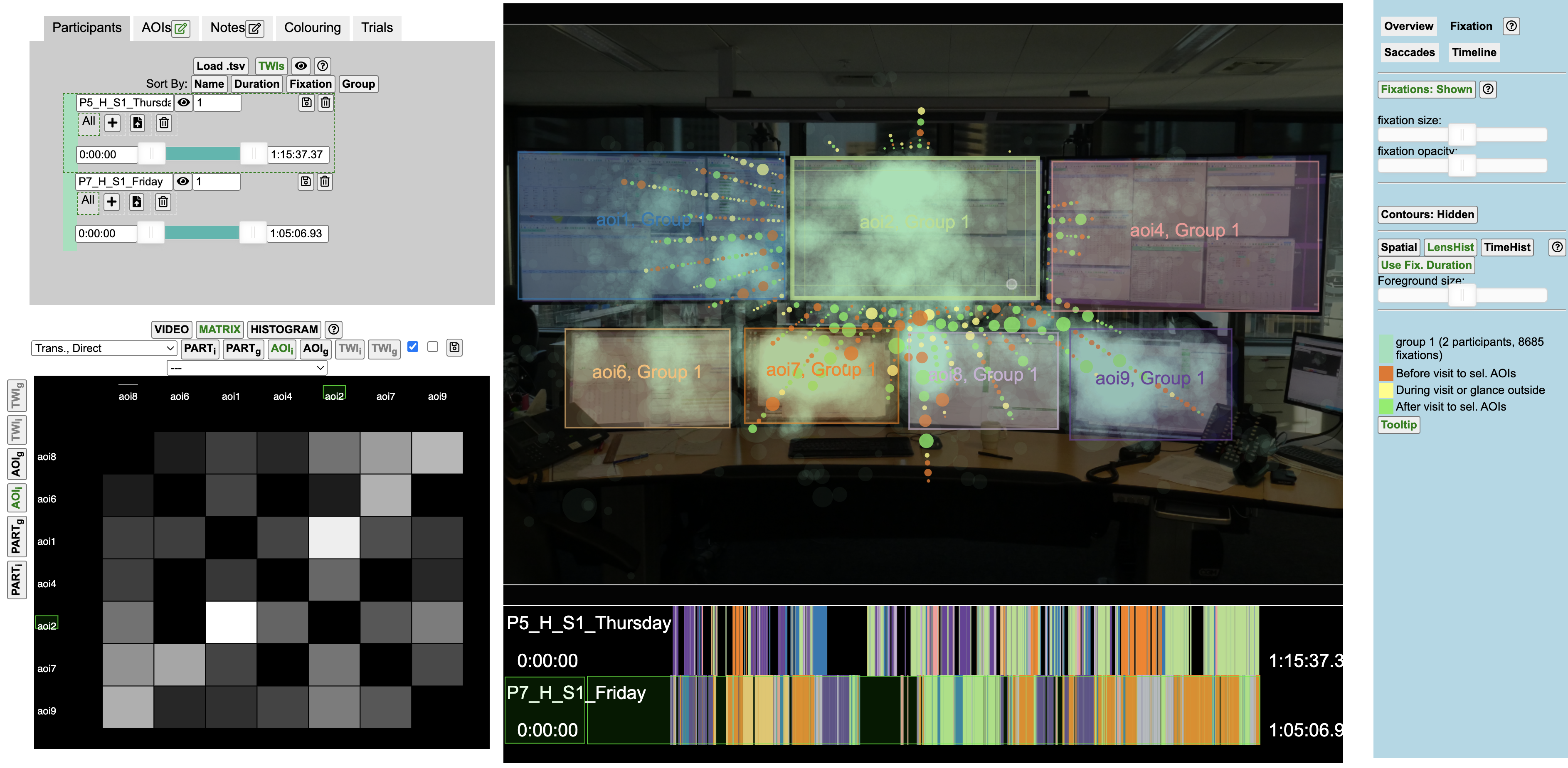 Aim/outline
Working with us you will be participating in one of our on-going research projects. 
Eye tracking is widely used in various domains. Eye-tracking data consists of a record over time of eye position relative to the scene being viewed. Important features relate to fixations (steady gaze on a particular location for some period of time) and saccades (quick eye movements between locations). Most eye tracking occurs in controlled studies in laboratories that require external sensors to track gaze. However, with the growing development of wearable eye trackers (e.g. Tobii Pro), it is now possible to perform 'in the wild' studies (i.e. in the participant's natural environment) by having participants wear eye tracking glasses. These 'in the wild' studies tend to produce large amounts of less controlled data. Current eye-tracking analysis software provide limited solutions for the exploratory analysis and visualisation of such collected data.  Motivated by our own research studies where we have collected gaze data of energy operators in a network control room, we are exploring the benefits of visual eye-tracking analytics to visually explore and analyse eye-tracking data more effectively. Now we have finished testing the software functionality and added many features we are seeking to improve the UI/UX. 
URLs/references
The software is based on the initial version of the software, originally developed as a desktop application from 2019-2020. (Note the initial ideas for the software started as a summer internship!). 
Sarah Goodwin, Arnaud Prouzeau, Ryan Whitelock-Jones, Christophe Hurter, Lee Lawrence, Umair Afzal and Tim Dwyer, VETA:  Visual Eye-Tracking Analytics for the Exploration of Gaze Patterns and Behaviours, Visual Informatics, Volume 6, Issue 2, 2022, Pages 1-13, ISSN 2468-502X, https://doi.org/10.1016/j.visinf.2022.02.004
The new version of the software "webVETA" is currently under going evaluation of new features. Please email for the link. or watch this video which gives an idea of the features. The interface is not as slick as VETA (which also needed improvement itself), hence we need help with the interface design.
Required knowledge
Ideally 3rd or final year UG or Masters level. Front end design skills with knowledge of UX/UI design. Competent programmer, especially with Javascript and other web technologies. Interest in data exploration and data visualisation and visual analytics. Basic knowledge of quantitative and qualitative research methods useful.