Co-supervisors
Dr Xavier Ho (MADA)
Assoc Prof Alan Gamlen (ANU, ACT)
Dr Alan Both (RMIT, VIC)
Dr Christoph Kinkeldey (HAW, Germany)
---
Please note this advert is for a Summer Internship as part of a collaboration between FIT, Arts and MADA. It is not an advertisement for an honours or masters thesis project at present.  Please note you can ONLY apply for the internship via the Monash internship page.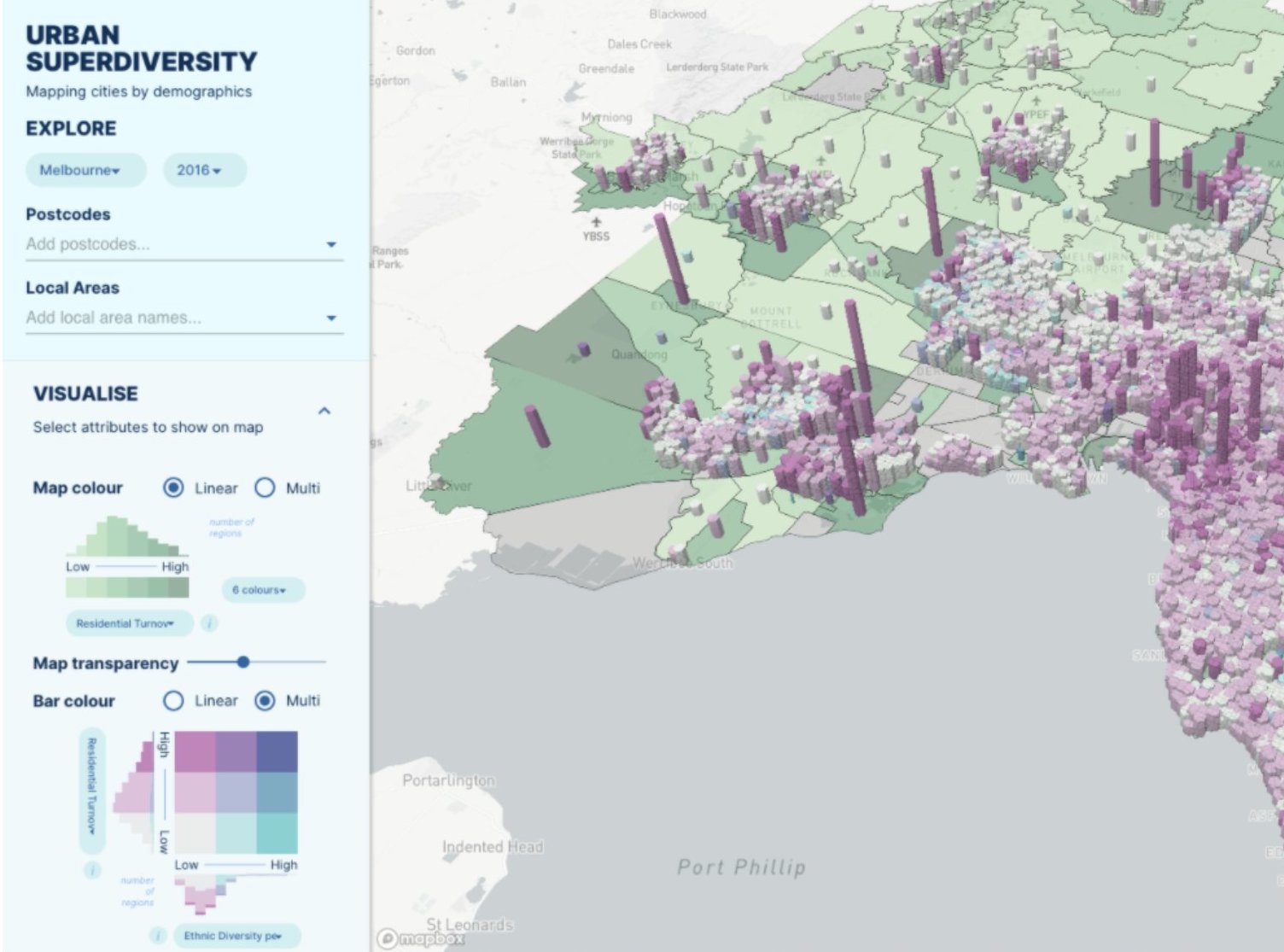 Within social science there is widespread need to analyse and map complex multivariate datasets on the economic, social, cultural, political, demographic and spatial dimensions of human populations in cities. Data visualisation has many applications for a wide range of social scientific research, but the use of such tools by social scientists is still in its infancy.
Aim/outline
We are developing a new data visualisation tool "MultiViz" for geospatial analysis of multidimensional urban datasets. The goal of this project is to empower geographers, policy makers, and social scientists to better understand key features of human data (e.g. factors that can contribute to urban diversity and liveability), which in turn allows for better decision making for future policies and development
The candidate will be dedicated to helping to develop functionality and features for the data visualisation tool. In particular, we seek to add a novel geospatial functionality to enable users to cluster and explore their data in more detail. The candidate will have the chance to design and run a user study to seek to understand how well users understand the many dimensions of data on screen. 
The successful candidate(s) for this position will be self-driven and be able to work independently as well as in a team.
Required knowledge
We seek 3rd or final year UG students, or Masters level with demonstrated experience of javascript programming. You should be confident in handling data sets and have an interest in data visualisation. Experience of handling geospatial data, React and/or Mapbox advantageous. Knowledge of basic qualitative and quantitative research methods beneficial. Interest in urban geography, social science or urban policy is a bonus. 
Please provide demonstrated experience in your expression of interest, e.g. relevant units taken, project experience, volunteer experience.